I've always wondered about the concept of an extra-large mini. But hey, if BMW can do it with cars, iXsystems can make hay with its FreeNAS Mini XL+–a powerful, 9-bay NAS box running FreeNAS. FreeNAS combines the super-stable FreeBSD operating system with the powerful OpenZFS file system for volume and storage management.
FreeNAS Mini XL+
If you didn't know, in addition to selling NAS boxes running FreeNAS, iXsystems maintains the project, which will be remonikered TrueNAS CORE (Community Developed, Open Source, Rapid Development, Early Availability) with the next release. Like FreeNAS, it will feature all essential NAS functionality, but not the corporate bells and whistles of TrueNAS Enterprise.
The Mini XL+ is a $1400 (sans drives), wide-body, medium-sized tower sporting eight 3.5-inch drive bays and a single 2.5, low-profile slot for a SATA SSD. iXsystems sent me seven 4TB hard drives and a single SSD pre-installed in drive trays for testing. Said trays lack quick change rails, but they do lock and have a handy button latch that slides to the side for release.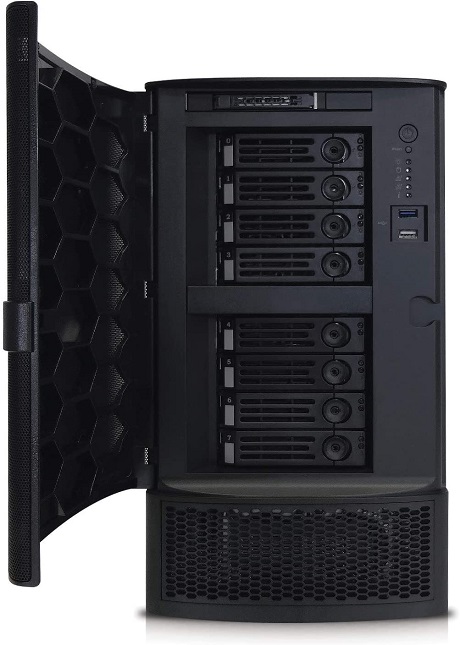 The drive bays are hidden behind a locking, swinging door that also conceals the power switch, two USB ports (one 5Gbps, one older 2.0), as well as power, drive activity, and Ethernet activity lights. The guts of the unit are 8-core Intel C3758 Atom processor, 32GB of ECC DDR4 memory in two slots (two more are available), a 16GB MLC boot SSD in the form of a SATA DOM (Disk On Module), and a single Micron 5502 1.9GB SSD in the slim bay. The latter appeared as only 16GB, which iXsystems later informed me was a mistake in over-provisioning. I.e., far too much NAND was allotted to replace worn out cells. There's a free PCIe slot, as well as an M.2 slot on the SuperMicro mATX motherboard.
On the back of the box you'll find two 10GbE 10Base-T ports, a single gigabit Ethernet port for out of bandwidth access (IPMI/Intelligent Platform Management Interface/remote configuration of hardware), plus two USB 2.0 ports and a VGA output for direct control. At this price point, a more versatile HDMI port might be in order.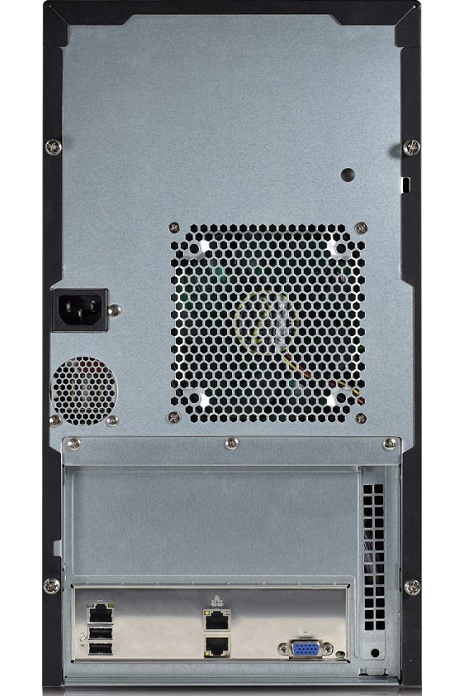 The Mini XL+ carries a one-year warranty with factory replacement of hardware. A three-year warranty is available for $299. Support includes next business day email and a community forum for end users. Additional support options are available to enterprise customers and are described here, sans pricing.
Installation and Configuration
As I didn't have to install the drives, that part was exceptionally easy. Yay iXsystems! However, as I mentioned, you'll need a screwdriver if you buy the Mini XL+ unpopulated. Beyond that, it's simply plugging the power cord, Ethernet cables and perhaps USB peripherals and a VGA display.
At that point, you're on to configuring the storage and applications via FreeNAS. This isn't dead easy if you're a newbie. There's quite a bit of nomenclature: Vdevs, pools, jails, zvols, etc. to work your way through. If you're a FreeNAS beginner, see this article for a bit more background, the documentation on the iXSystem's Web site, and spend a couple of hours on Youtube learning ZFS. Once you're familiar, things will go far easier.
Note that I took a foray into the new version 12 beta, and reverted to the stable 11.3 due to issues installing plug-ins.
I configured a single pool with seven hard drives iXsystems sent for data (RaidZ-S with dual drive redundancy), the 1.75TB SSD in a drive bay into read cache, and the mistakenly over-provisioned 16GB SSD into write cache (Log). I then set up shares for Time Machine and general Windows/macOS use, and FreeNAS thoughtfully enabled the AFP and SMB services for me. It then steers you directly to the Access Control List (ACL) so you can set up user rights immediately. Nice. iXsystems continues striving to make things easier.
After that, it was simply installing plug-ins such as the Plex media server, and creating some virtual machines for testing.
Performance
Overall, the Mini XL+ booted quickly and the remote interfaces (Main/IPMI) were as snappy as you could ask for. Not once did I feel I was waiting unduly for the system. Pools were created quickly, and most features installed in a reasonable amount of time.
I tested using a single 10GbE port as it provided more than enough bandwidth for my limited setup. You can see the raw SMB throughput from the synthetic CrystalDiskMark 6, which was largely backed up by my real world large file transfers that ran from 300MBps to 350MBps.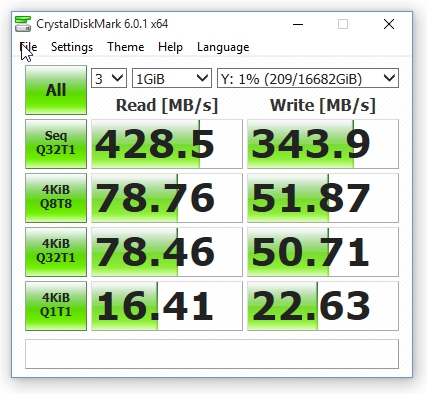 Functioning as an iSCSI target, the numbers, including 4K transfers jumped quite a bit.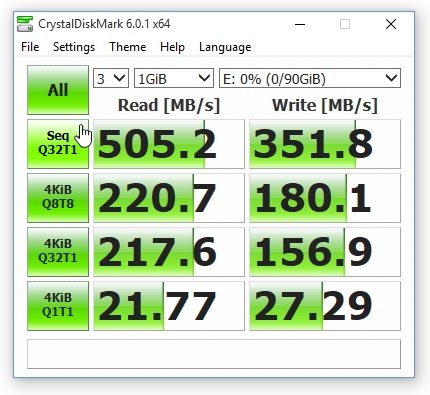 VMs ran "Okay" via a VNC connection, though I wouldn't want to use them on a regular basis, or say that's the box's strong point. Streaming 1080p video using Plex to several PC simultaneously, the Mini XL+ never broke a sweat. The numbers shown above, as well as my subjective testing showed the Mini XL+ to be a solid performer given the heavy requirements of ZFS. ZFS which is more about data integrity than raw speed.
Note that performance testing was finished before I learned of the over-provisioning error. What impact having more write cache would've had is uncertain, but these CrystalDiskMark test were writing only 1GB. The numbers with the one run I did with 32GB were a bit slower, though not drastically so.
iXsystems figures the Mini XL+ is good for up to 100 users, assuming they're not all videographers or watching 4K video of course. I'd agree given normal business workloads.
Conclusion
The Mini XL+'s solid construction and performance, as well as the out of bandwidth IPMI access and numerous support options offered by iXsystems makes $1400 a good deal for a smaller business or large workgroup. Indeed, pre-packaging and pre-installation by the company saves you money right off the bat.
If you're not ready to commit to a product like the Mini XL+, FreeNAS is still free for the download, so you can kick the tires and learn the ropes.
This article was edited on 7/23/2020 to correct misinformation about the # and type of bays and SSDs in the system.