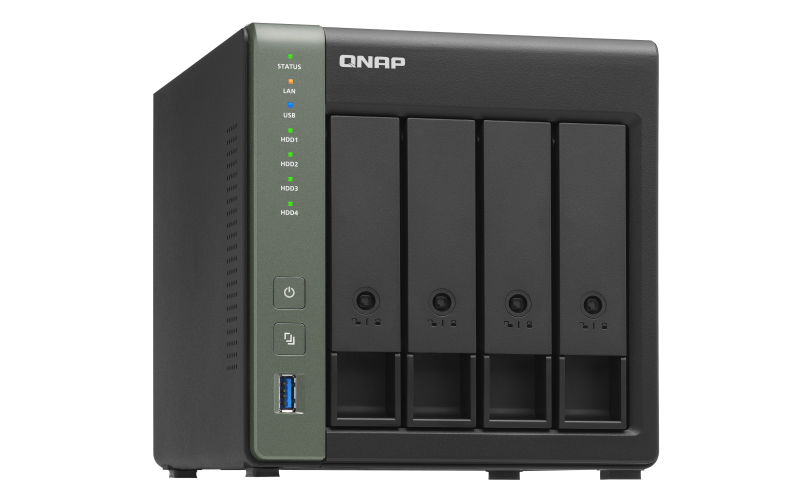 The QNAP TS-431KX is a small-business grade, 4-bay NAS box that carries a price tag of $389. Considering it features 10Gbe SFP+ and nearly all the capabilities of QNAP's second-to-none operating system and app ecosystem, that's a pretty decent price.
Features
The TS-431KX I tested shipped with 2GB of DDR3 memory feeding a 1.7GHx ARM Cortex A-17 processor. There's only one SODIMM slot, so if you want to upgrade the maximum 8GB, you'll need to replace the existing memory stick. As mentioned, there are four lockable, easy-access drive bays with quick change trays using the now common snap-in retaining rails. Note that while there is no dedicated slot or bay for a caching SSD, you can use one of the main bays for caching (2.5-inch SATA).
As you can see from the main photo, the box is attractively styled in QNAP's business-like gray and black color scheme. The power button, status lights, quick-copy SuperSpeed USB 5Gbs port and button are on the left front of the unit as you face the box, with the bays on the right. Quick copy copies the contents of whatever mass storage device is attached to the USB port to the TS-431KX.
Alas, this doesn't include exFAT formatted media unless you pony up an additional $4 in the QNAP license store. I kid you not. There are some hidden costs with QNAP boxes, depending on what you want to do with them. Take a gander at the store to see if they might affect you.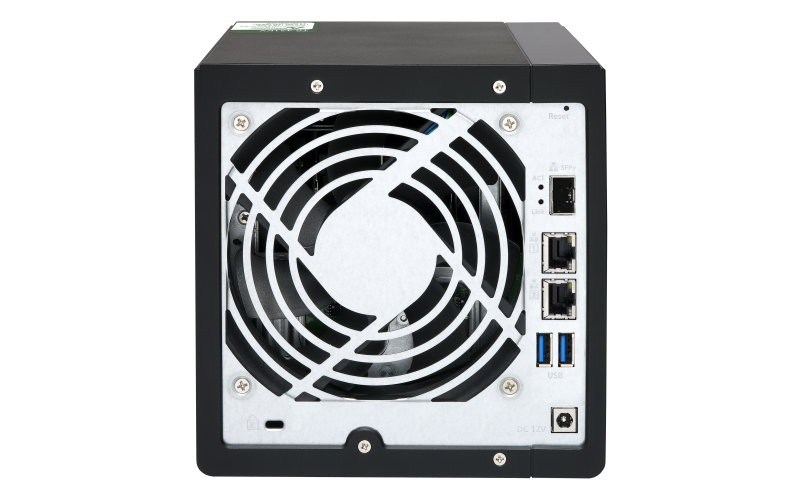 On the back, as shown above, you'll find a single 10GbE SFP+ port, two gigabit RJ-45 ethernet jacks, two more SuperSpeed USB 5Gbs ports, and the 12-volt power jack. There's also a small, recessed reset button. The button accommodates both soft (reboot) and hard (user data erasure) resets depending on how long you hold it.
What you don't get that you'll get with QNAP's more expensive boxes (some considerably more) are PCIe or M.2 slots, and the ability to run virtual machines. If you're looking for those features, this is not the QNAP product you're looking for.
QTS – QNAP's Operating System
The larger part of QNAP's appeal is its QTS operating system. It's stable, offers a large array of easily-installed apps, and sports a slick windowed-operating-system-in-a-browser (demo it here) web interface. Said array of apps covers everything from mail and website hosting to video surveillance. Media streaming, backup, and remote access are particularly well-represented.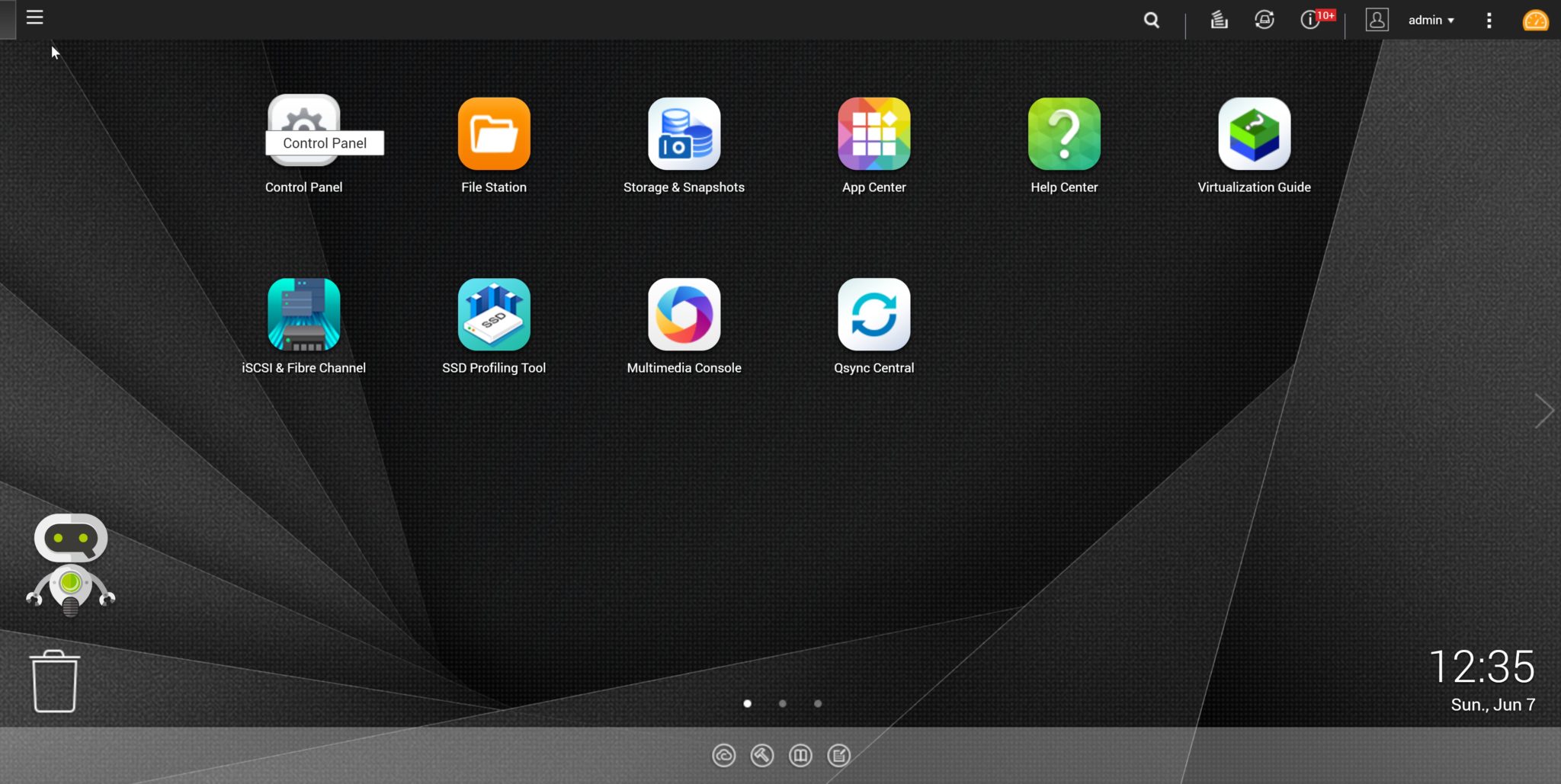 I don't recommend hosting your website using QNAP and the version of WordPress offered in the app store. It's extremely out of date, and vulnerable enough that my own site running on it (Yes, I know…) was ransom-wared while running on a QNAP NAS box. I lost only a modicum of writing and website data because it didn't attack the attached backup drive, but lesson learned.
If you want to use any QNAP box for website content hosting, install and administer the software manually, keep WordPress up to date, keep it backed up, and don't keep any other important data on the box. QTS is a flavor of Linux, so if you're familiar, you can add just about any capability to the box you wish.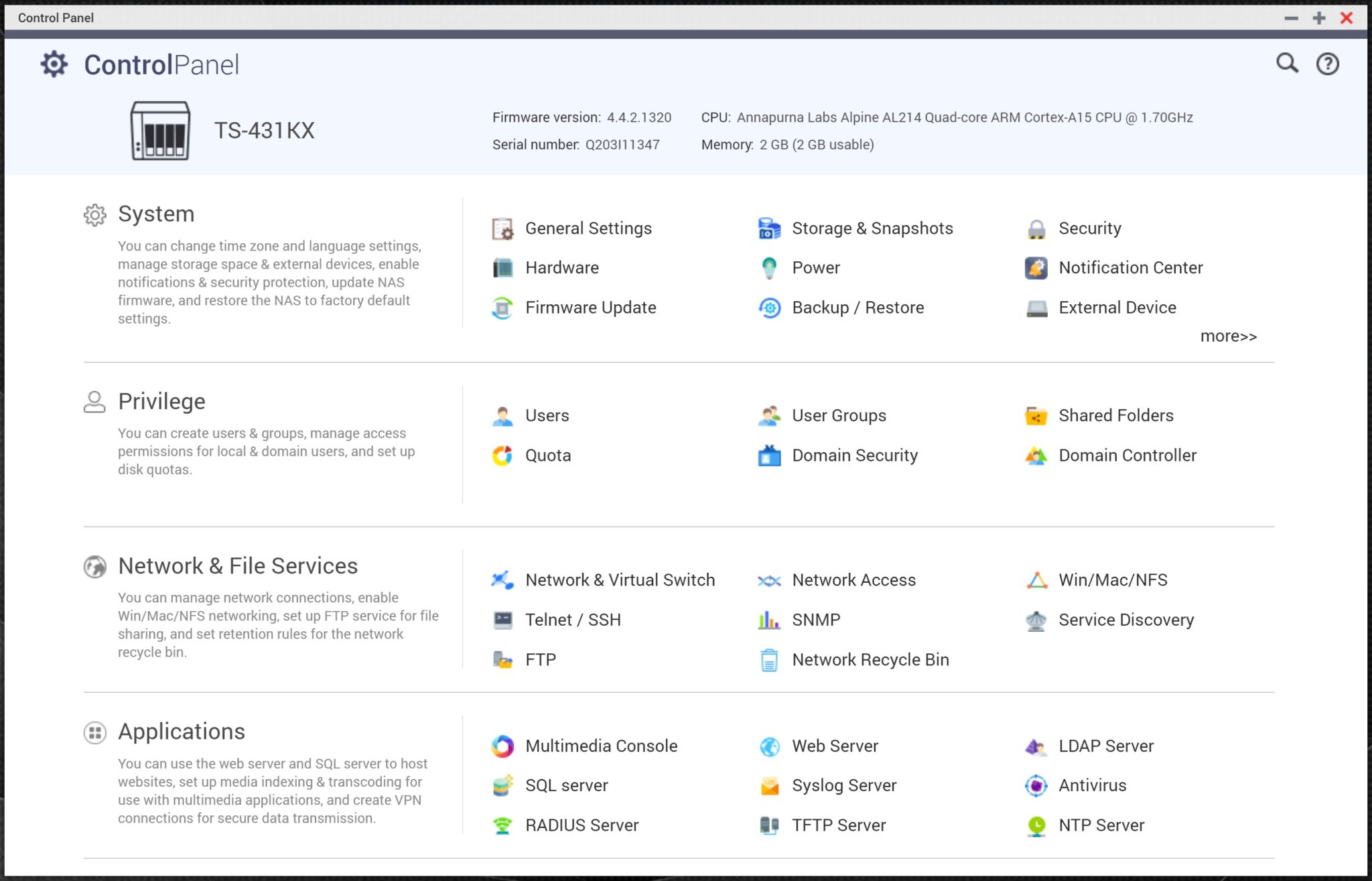 QNAP supports all the usual NAS options as shared folders, users, user groups, iSCSI, Telnet/SSH, Active directory, Time Machine, AFS/SMB/NFS, etc. QNAP also provides its own web portal-based remote access, plus remote access, multimedia, and sync clients for Windows, macOS, Linux, iOS, and Android. If it's been done on a NAS box, QNAP has done it. Alas, as mentioned, that does not include the company's Virtualization Station in the TS-431KX's case. QNAP only provides this for pricier, more powerful models.
Performance
I tested the TS-431KX using four SATA 6Gbps SSDs configured in RAID 0 for maximum throughput. With the limited 2GB of memory on board, the TS-431KX I tested is a relatively light-duty box capable of handling two to perhaps five computers depending on what you're doing with it. I had no issues streaming 1080p movies to three computers simultaneously via gigabit. Simultaneous Time Machine backups from two separate iMacs proceed apace as well.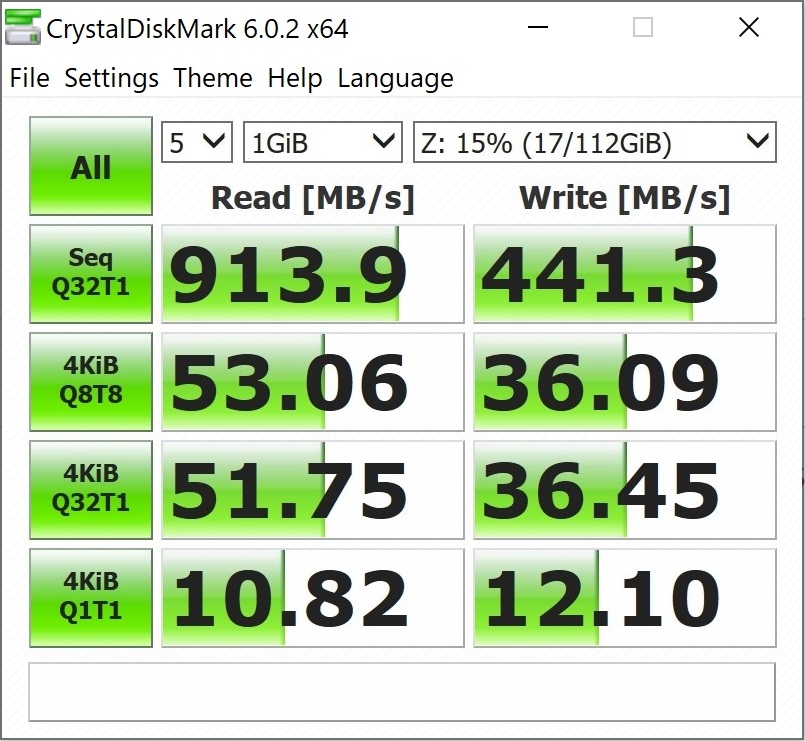 As you can see above, the box is also capable of excellent performance using 10GbE. This was directly attached to a 2015 iMac using a QNAP T310G1S Thunderbolt 3 to 10GbE adapter, so add a few MBps for a non-translated connection. The box scored 116MBps writing and 118MBps over gigabit Ethernet, which is a MBps or so slower than the fastest boxes I've seen, but meaningless in the real world. Gigabit is obviously a limiting factor for all but the slowest boxes.
Nice for the price
QNAP makes good stuff. Expensive good stuff, but you'll rarely, if ever, hear complaints about quality. The TS-431KX is hardly the company's best or most expensive box, but it offers enough performance for just about any SMB, or corporate workgroup, or even as media work with a 10GbE LAN. And of course the rich variety of apps makes it suitable for a wide range of uses. It's a great little box and I love the 10GbE for minimal moola.
Note: If you're not 10GbE or even 2.5GbE yet, consider it. The faster LAN technology is becoming increasingly affordable with mixed gigabit/multi-gig/10GbE switches from QNAP, Zyxel, and others. 10GbE adapters are still pricey, but 2.5GbE are very affordable.