The ASUSTOR AS5304T is a dual 2.5GbE gaming-inspired NAS geared towards users wanting to store and stream their own content. It comes equipped with an Intel Celeron quad core CPU, 4GB SO-DIMM DDR4 memory (expandable up to 8GB), and has a maximum raw storage capacity of 64TB.
Going into this review, we were excited to see what all the fuss was about–and we weren't disappointed. ASUSTOR has set the bar high for 2.5 GbE NAS for consumers and though it may appear a bit pricey at $429, you're definitely getting what you pay for.
AS5304T Design and Build
The ASUSTOR AS5304T sports a solid black finish, complimented with a red logo and status icons. The front of the NAS has a magnetic panel that covers the four bays hidden behind it. To the left of the panel are the aforementioned red status indicators, accompanied with LED lights. Below the lights you'll find a One Touch Backup button and a USB 3.2 port.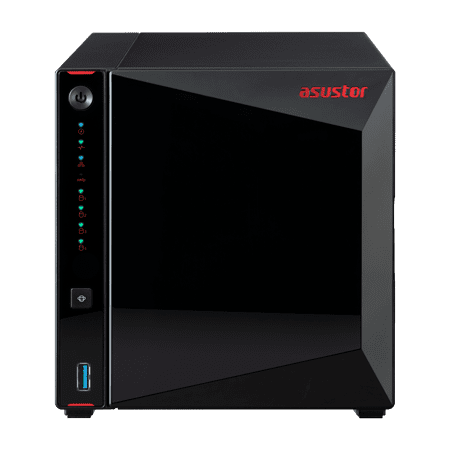 With the magnetic cover removed, you'll see the four drive bays. Unfortunately, these bays can't be locked, nor can the magnetic cover–which is a personal must con for me. Although this is a NAS for home users, I still like to be able to lock the drive bays. ASUSTOR has other models that have locking drive bays, so I'm not sure what the limitations here were.
To open the drive trays, simply pull the bottom of the latch and slide the tray out.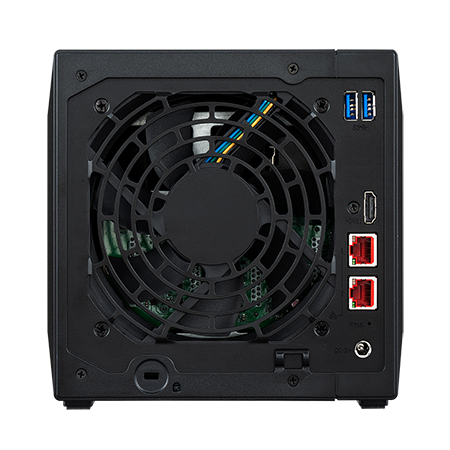 On the backside of the NAS you'll find a large system fan that keeps the internal components cool. Beneath the fan is the Kensington security lock and to the right of the fan, starting from the top, you'll find two USB 3.2 ports, one HDMI port, two 2.5GbW RJ45 ports, and a DC input jack.
AS5304T Features and Performance
The AS5304T comes with all the bells and whistles you'd expect from a NAS server in terms of backup, storage, and security applications. In fact, ASUSTOR has a pretty mature app ecosystem, and even provides their surveillance, Surveillance Center, with this NAS. Very nice!
When it comes to setting up the NAS, ASUSTOR did a great job simplifying the process. Connect it to the local network and find the NAS using ASUSTOR Control Center. The Wizard is straightforward, so you won't have any problems getting it ready to go.
Of course, you'll need to install a few drives since it doesn't come equipped with any. We used 960GB IronWolf 110 SSDs (which are the same drives used when ASUSTOR tested the NAS).
During the initial setup, you'll need to decide which file system and RAID level you'd like to use. Assuming you have all four bays filled, these are your options:
After the initial setup is complete, you'll see ASUSTOR's beautiful OS, ADM. ADM has a clean, game-inspired desktop feel. Here, you can tweak any additional settings you may want, add additional users, etc.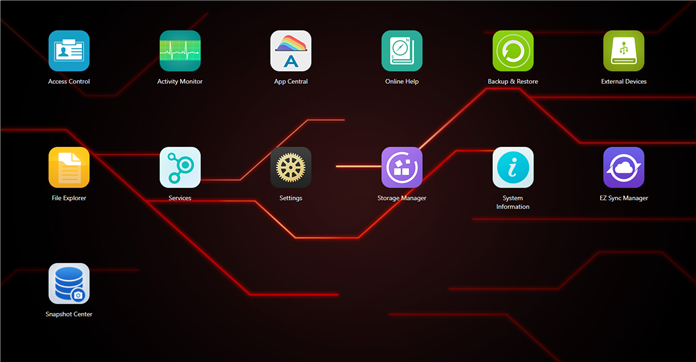 You can also install additional apps from the "App Central" app. Installing new apps is as easy as clicking the "Install" button under the app.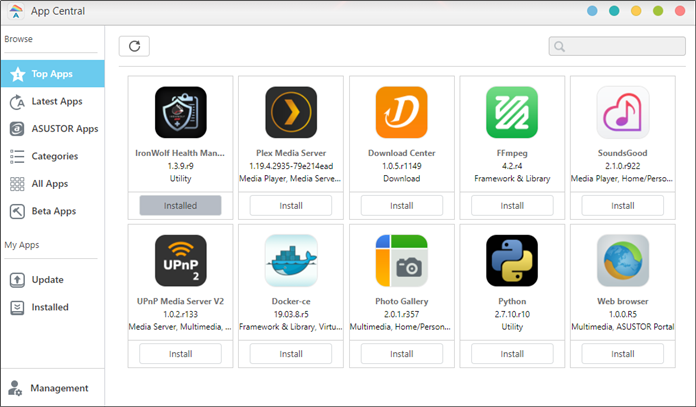 ASUSTOR provides some business-oriented apps with this NAS, but this NAS will generally be used at home for personal use. That said, here are some of the apps you may be interested in for home use:
Plex Media Server
ASUSTOR Live
ASUSTOR Portal
iTunes Server
DataSync Center
LooksGood
MiniDLNA
Photo Gallery
Remote Center
SondsGood
UPnP Media Server
UPnP Media Server V2
If you need help deciding which apps are right for you depending on what you want to accomplish, ASUSTOR gives you a "Categories" section that separates the apps based on use case.
For testing, we moved a folder with a mix of media and document files and saw results of 244MB/s. Take advantage of the dual 2.5GbE link aggregation this NAS offers and expect to see much better numbers. Streaming 4K videos was flawless as well, with no stuttering or lag.
Is the AS5304T Worth the Price?
At first glance, the AS5304T seems a bit pricey when considering you'll need to buy your own drives. If you buy the NAS and add four 4TB Seagate IronWolf drives, for example, you're looking at around $850 at least.
However, that's almost always going to be the case, no matter which brand or consumer NAS model you go with–unless you hit some special campaign. When you consider the top notch components ASUSTOR equipped this box with, in addition to the very nice performance and full suite of apps for streaming and data storage, you honestly could do much, much worse than the AS5304T.
In a word: Yes.