Synology makes excellent NAS boxes, and the $560 4-bay DS920+ is no exception–as far as it goes. The Intel Celeron J4125 4-core CPU is fast, there's 4GB of DDR4 memory, the operating system is nearly as feature-complete as QNAP's, and it's a breeze to set up and use.
The question is… Why would a company outfit a NAS box with all that goodness, plus dual M.2/NVMe SSD slots for caching, then constrain the whole deal with gigabit Ethernet?
Design and Specs
I gave away quite a bit in the lead paragraph about the DS920+'s hardware, but the distinctive new feature for these 2020 models is the aforementioned M.2/NVMe x4 PCIe slots for mounting caching SSDs. That's an en vogue feature this year for mid-range boxes. Adding caching SSDs will accelerate small file operations (assuming you're using hard drives), especially simultaneous access from a number of client computers. And you're likely to be serving a fair number of users with a 4-Bay box.
Compliments to Synology on how they engineered the M.2 slots. There are two panels on the bottom of the box that pop off to reveal them, and get this–you don't have to screw the drives down. Bend the plastic posts at the rear of each slot location slightly back, and pop the SSDs into place. Kudos. On the other hand, Synology's utilization of the SSDs is a bit rigid. Read more about that in the Performance section.
The DS920+ is styled completely in flat black, giving it a wholly business-like appearance. There are four easy-change bays, sporting trays with pressure-fit mounting rails; the power button; status lights for the four bays; and a single 5.Gbps USB Type-A port.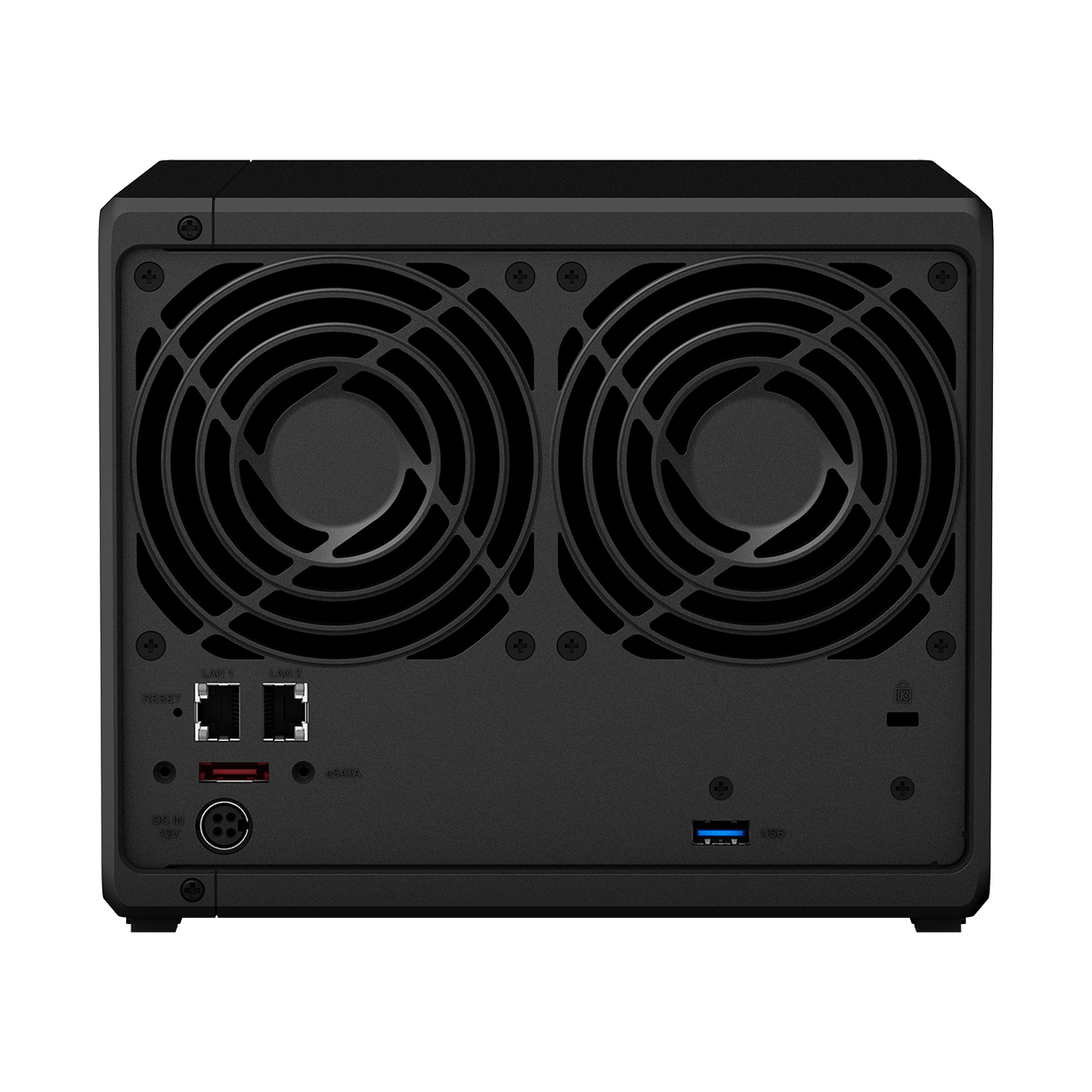 On the back are another 5Gbps USB Type-A port; dual RJ45 gigabit Ethernet ports that support trunking; as well as a reset button, Kensington lock port, eSATA port (for drive expansion with the Synology DX517), and a four-pin power jack. There are also, as you can see in the image above, two rather large fans.
Construction is solid with a metal frame supporting the plastic shell.
Operating System and Apps
Synology was the first company out of the gates with a "Windows in a browser" HTML configuration interface, which was quite the coup in the day. It's still one of the top two UIs in terms of ease-of-use to my mind. You can fool with it here to see for yourself. That said, like the other top interface (QNAP's), I'd like to see features brought under one roof rather the split between the control panel and standalone apps.
More impressive than the configuration interface is the vast array of apps that Synology provides or curates. These cover a gamut of applications from Web/email serving, to video surveillance, to syncing with online services, to multimedia serving. There's a load of backup apps, including Active Backup for Office 365 and local clients, as well as Hyper Backup, which will handle just about any task on its own.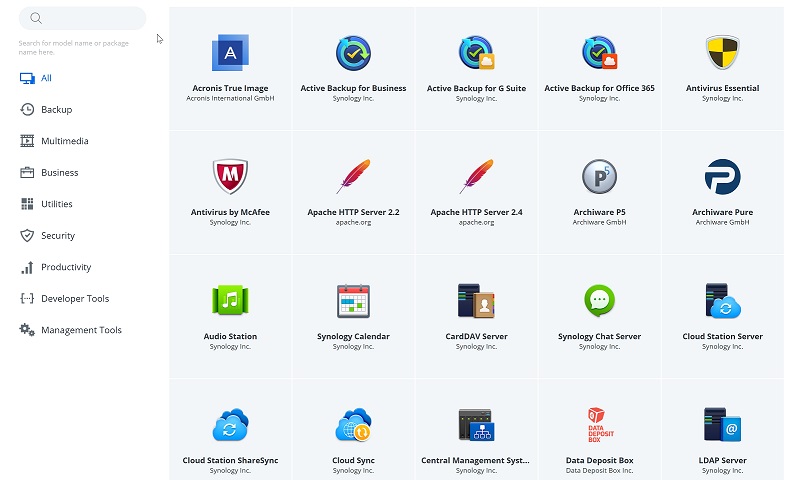 I say "just about" because Hyper Backup doesn't handle remote client to local (the box) backups via SMB or FTP. For me, one of the joys of NAS is being able to use its software to back up your other computers without doing anything more than creating shares or enabling a service on said other computers. Boxes from most vendors will do this.
On the other hand, having been ransom-wared while hosting my Web site on a QNAP NAS box, I appreciate that Synology is at least within shouting distance of the latest version of WordPress. QNAP is way behind and, obviously, vulnerable. I still recommend an online host, unless you want to dedicate a lot of time to updating the system manually. If you do use a NAS box, back it up frequently, store nothing else of importance on it, and limit its access to the rest of the network.
You can check out the wonderful breadth of Synology's app (package) ecosystem here. Note that you may use either the EXT4 or Btrfs file systems. I chose the former to make sure the performance numbers were as favorable as they could be. But Btrfs was close in performance and offers advanced features such as copy on write and snapshots.
Performance
The DS920+'s performance numbers are quite good for a gigabit box. The fast CPU and NVMe SSD caching certainly help with random access when hard drives are installed, but the box's sustained throughput is throttled by its relatively narrow external pipe. 120MBps is about the max on a normal network topography. With caching SSDs installed it should be capable of 300MBps/300MBps read/write via 2.5GbE, and 1GBps/500MBps using 10GbE.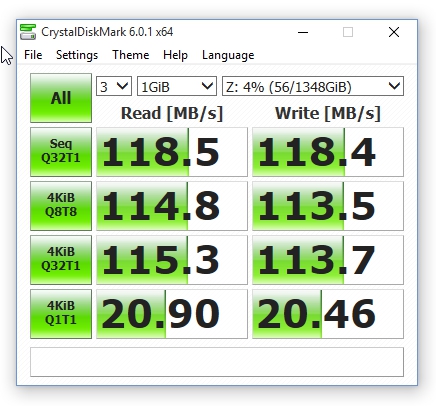 As you can see from the images, the SSDs sped up 4K reads and writes with a 1GB data set. Still, within the gigabit threshold, you'll have no worries with the DS920+ in terms of performance. With pure hard drives, you'll see about the same throughput, but with significantly lower 4K performance.
As I noted previously, the SSD caching implementation is rather limited. With one drive installed, there was only an option for read caching. With two you could set the cache for read/write. Fair enough. What was puzzling was that the dialog only offered an option for formatting them in RAID 1. That two drives are required for read/write is understandable, but being mirrored doesn't seem to make sense in that context.
As gigabit is a limiting factor, I asked Synology about USB multi-gig adapters which would be an easy way around the issue. There's a Linux driver for the Realtek chips that inhabit most adapters, so there's no reason for the company not to support it, but so far, no dice. I was able to locate the driver and install it, which was a bit of a hassle for me as the instructions I found were in German. If you feel the need, you can watch the video and download the drivers here. Synology should do itself and its customers a favor, and build in support.
Given the gigabit limitation, there's zero reason to buy anything other than a bargain NVMe drive, and given my experience, a 256GB drive is likely to do as well as the 1TB drives I used. Note also that with a switch supporting 802.3ad, you might be able to increase throughput by bonding/trunking/aggregating the Ethernet ports. 
On the plus side, the DS920+ is a very quiet box. The large fans in the back were barely noticeable noise-wise, but still did a bang-up job of cooling the various drives I tested. Note that I'm actually fond of white noise within reason, so don't take that to mean the box is silent.
A Good NAS Box, But Behind the Curve
The DS920+'s NVMe caching support is great for small file operations if you populate the box with hard drives. Additionally, mature OS and app selection make it a very versatile box for a small workgroup or home network. If gigabit works for you, it's a solid product from a venerable NAS vendor.
That said, cheaper, or equally affordable boxes from ASUSTOR and QNAP offer up 2.5GbE and even 10GbE. Just saying.