Yottamaster's five-bay (3.5-inch), FS5U3 direct attached storage box is nothing if not handsome. Actually, I should say handsome and solid–the nearly all-metal chassis and shell are built like a brick outhouse. I like it. It feels like the $270 it costs. It is however, a bit pricey for 5Gbps USB 3.0.
Design
Beyond what I've already described, the FS5U3 features an internal power supply and a dip switch on the back for choosing the storage mode: RAID 0, RAID 1/10, RAID 3, RAID 5, span, and separate LUNs. The controller hardware consists of a JMicron JMS578+JMB394. Also on the back are the power switch, inset RAID mode set button and type-B Superspeed USB 3.0 port.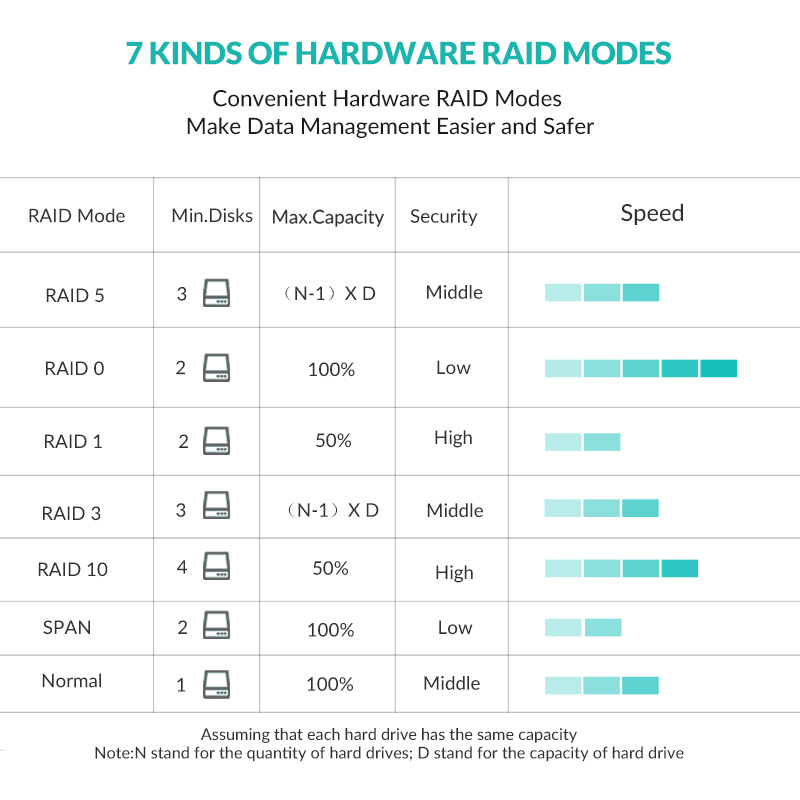 There's also the grating for 80mm fan. The all-metal construction will shed a lot of heat on its own, but the fan was decently quiet and kept the box cool even with five hard drives spinning away.
The drive bays are quick change, with the sleds popping out when you slide a large, recessed button to the left. Said sleds are a sturdy combination of metal and plastic. As there's no keyed locking mechanism, you might want to restrict the FS5U3 to more secure areas. Yottamaster includes screws, a power cord and Type-B to Type-A USB cable, as well as a small screwdriver. You're on your own for a reset tool. (Use a paper clip.)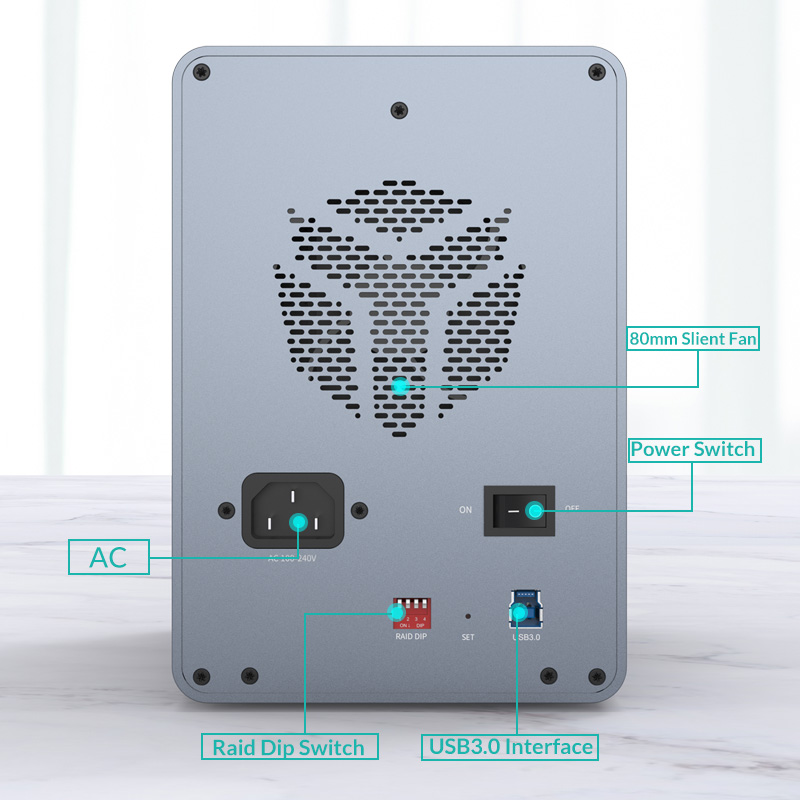 One thing that I did miss a bit more (you might not) was a front power light. You can hear the relatively quiet fan if you listen carefully, but that's the only way to tell the unit is on without leaning around the back to peek at the position of the power switch. Fortunately, Yottamaster provides a RAID utility that serves much the same function and makes for easy RAID configuration.
The FS5U3 carries an 18-month repair warranty on top of a 30-day money back guarantee. Note that setting to a new RAID mode requires first putting the drive into normal (separate disks) mode, then into the new RAID mode.
Performance
I didn't have the easiest of times configuring the FS5U3 with the dip switches thanks to capacity mismatched hard drives, however, the Yottamaster RAID Manager software made the task a breeze. I tested five fast hard drives (Seagate IronWolf, WD Gold) in RAID 5, as well as two SATA 6Gbps SSDs in RAID 0.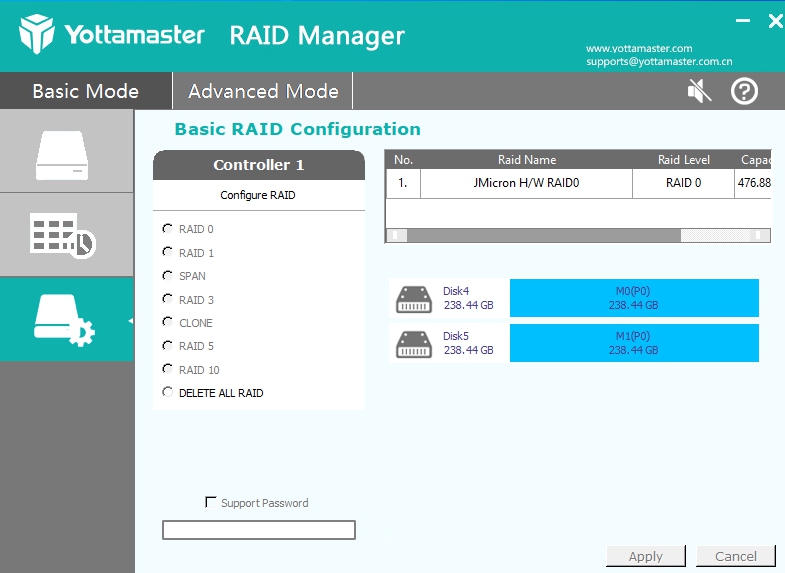 With a faster bus, sustained throughput with hard drive array has hit upwards of 500MBps and with the two SSDs, around 800MBps. With the FS5U3 I saw only 260MBps max from either setup, using on two separate computers with everything from USB 3.0 to SuperSpeed 20Gbps ports. The limiting factor is obviously the USB 3.0 5Gbps.
| | | |
| --- | --- | --- |
| CrystalDiskMark 6 | Read | Write |
| RAID 5, five HDDs | 256MBps | 252Mbps |
| RAID 0, two SSDs | 260MBps | 255MBps |
Basically, the FS5U3 is fine for leveraging up to five inexpensive, slower hard drives into a large capacity array serving normal everyday documents or audio. The box would also serve well as a backup repository.
However, it doesn't offer the bandwidth required for modern high-resolution video editing and leaves a lot of possible performance on the table, depending on what you populate it with.
Conclusion
I love solid metal construction, and as a certain character in Indiana Jones once said, "I even like the color". But the FS5U3's 260MBps maximum sustained throughput doesn't allow you to harness the full capabilities of modern hard drives or SSDs. If 260MBps meets your needs, then by all means, however, in a world that's already welcoming 40Gbps USB4, 10Gbps (USB 3.x Gen 2) might be the wiser choice.