Kingston's DC500M Data Center SATA SSD is exactly what I've come to expect from the company over the years–a good, stable performer with top-shelf, reliable components. For its intended role as an SMB server drive, it's nigh on a perfect product.
Specs and Pricing
The DC500M is a standard, 2.5-inch, SATA 6Gbps drive utilizing Intel 3D, 64-layer NAND and a Phison S12 controller. It's heavily over-provisioned, as you can tell from the available capacities: 480GB, 960GB, 1.92TB, and 3.84TB (the DC500R is available in 7.68TB). In the end-user space, capacities would start at 500GB and end at 8TB.
If you're workload is read-centric, Kingston also sells a less expensive DC500R model with lower endurance ratings. R means read-centric, while M stands for mixed-used, i.e. a workload more evenly divided between reads and writes.
In case you weren't aware, over-provisioning is allotting spare NAND for use replacing blocks that wear out over time. The more NAND diverted for over-provisioning, the smaller the functional capacity of the SSD. End-user drives tend to see fewer writes so less NAND is set aside, allowing more capacity per chip to be used.
There's also 1GB of DRAM cache on the 480GB capacity, 2GB on the 960GB, and 4GB on the 1.92TB and 3.84TB capacities. No secondary caching techniques involving treating TLC as SLC are employed, as they're not needed with 6Gbps SATA the way they are with the far faster PCIe bus (NVMe).
Kingston warranties the DC500M for 5 years and rates it for 1138 TBW (TeraBytes that may be Written over the life of the drive) for every 480GB of capacity. That means the 3.84TB unit the company sent me is good for a whopping 9110TBW. The R model's TBW ratings are about a third of the M model's.
Kingston didn't provide MSRP's for the drives, however, I found them on Amazon for $110, $184, $347, and $688. That's roughly 22 cents per GB to 17 cents per GB as you work your way up. The R series run from $4 to $60 cheaper as again, you work your way up in capacity. The 7.68TB R model was selling on Amazon for $1136 when I checked.
Performance
There was no hint at any sort of slowdown with the 3.84TB DC500M that Kingston sent me in any of the tests I ran. That includes writing a single 500GB file write that sustained easily at the 441MBps. The synthetic CrystalDiskMark 6 benchmark rated the DC500M as an average, not scintillating performer, but this drive is about reliability and longevity and it's certainly fast enough for use in arrays.
| | | |
| --- | --- | --- |
| CrystalDiskMark 6 Sequential Read/Write | 541MBps | 486MBps |
| CrystalDiskMark 6 Random Read 4K (Q=8, T=8) | 233MBps | 56,827.9 IOPS |
| CrystalDiskMark 6 Random Write 4K (Q=8, T=8) | 196MBps | 48,397.2 IOPS |
| | | |
| --- | --- | --- |
| Windows 10 Large file Read/Write | 457MBps | 432MBps |
| Windows 10 Small file Read/Write | 235MBps | 279MBps |
All of the Windows 10 numbers are very good, if not the best I've seen. These speeds were measured during plain Windows file transfers of 50GB to 100GB.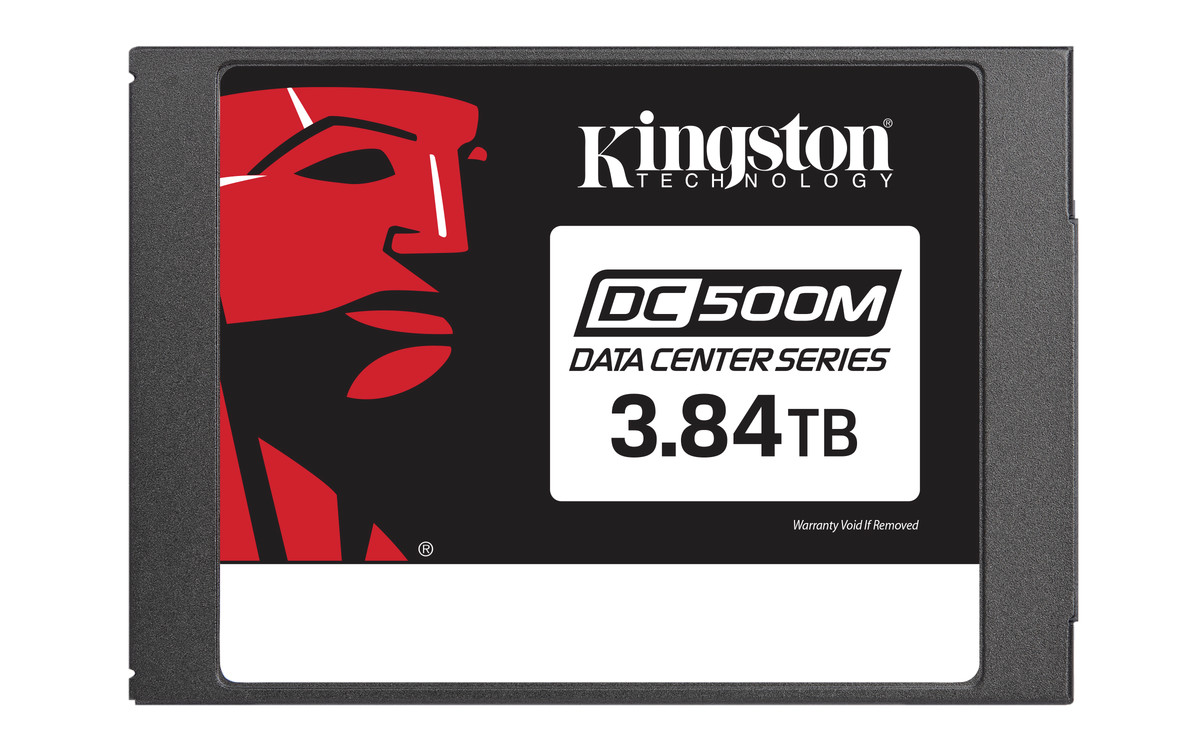 Trustworthy Storage
I've had Kingston SSDs in my systems for a very long time, even back when the technology wasn't as reliable as it is today. Kingston's drives have always been rock solid. In fact, I still use one of the company's ancient, but very fast HyperX SSDs for NAS testing. It remains the fastest overall SATA SSD I've ever tested.
Of course that's no guarantee that you'll have the same experience with the DC500M, but I'd bet against long odds that you will. An excellent, highly reliable product with a vendor of long-standing reputation behind it.