QNAP's $329 QHora 301W is an excellent WiFi 6 router. It's not styled to attract gamers, but creative pros and IT types will like it. They'll also appreciate that it's fast, offers multiple virtual networks and access points, optional cloud login and management, and just about all the other features you'd expect from a state of the art 10Gbps router. It could use some inline help or guidance for less experienced users, and a more complete NAS implementation, but otherwise… Good stuff from QNAP.
Features
QNAP bucks a general trend in the price range by styling the approximately 10-inch wide by 7-inch deep, by 2-inch, rectangular 301W in white. As I mentioned, it targets serious pros, small businesses, and workgroups–not gamers. Actually, QNAP says simply SMB. I'm recommending it for prosumers. Darn. There goes the suspense.
The 301W, sports two 10Gbps (multi-gig) ports, as well as four gigabit ports and has two SuperSpeed 5Gbps (USB 3.1 Gen 1) ports. Internally, there are 8 antennas supporting the 802.11AX (AX3600), aka WiFi 6 protocol, a Qualcomm IPQ8072A Hawkeye 2 Quad-core 2.2 GHz 64-bit CPU, plus 4GB of flash memory for storing settings, etc. Once you've defined a region, the router seamlessly mixes the 2.4GHz and 5GHz bands.
Note that the 301W allows you to utilize either the first 10Gbps port, first gigabit port (default), or first two gigabit ports aggregated as your WAN (broadband) connection. That's a far more versatile solution than the recently reviewed Zyxel Armor G5 AX6000 which hardwires the WAN to its single 10Gbps port.

There's the usual array of port forwarding, firewall, and parental controls, but also a full array of virtual network options for both wired and wireless clients. You can present three wireless networks plus a guest network, as well as a VLAN (Virtual Local Area Network) for each of the non-WAN wired ports. VLANs and VAPs (Virtual Access Points/Wi-Fi) are wholly configurable with different IP addresses, DHCP, etc.
If you're wondering why virtual, it's so you can limit access to equipment or computers to certain groups of users. E.g., the printer in the art department available only to the art department on one network, and the NAS in the business office to business employees only on another, etc. This can be both for security, or simply decluttering the landscape for users, cutting down on search and confusion over what's what. It works. I've received many a thank you from SMB clients whose network assets I've divvied up.
My one complaint about the Qhora 301W is that while it supports USB mass media for ad hoc NAS, it's only available via FTP. No SMB or DLNA. That's very odd considering QNAP supports both on its NAS boxes. I often stream movies to my TV, and don't enjoy FTP for local file transfer other than backup. That makes the storage capabilities of the QHora 301W pretty much a non-starter in my book. I can see the DLNA omission in a business product, but the SMB is a real puzzler. QNAP media relations said they put in a feature request with the company for both protocols, so this might be a temporary complaint.
Ease of Use
Though the 301W's interface is very attractive, and it's generally easy to find settings (once you recognize the somewhat imprecise "gear" icons), it assumes a lot of knowledge. It also lacks some of the amenities you find from more experienced router companies. For instance, when I changed the local network (found under VLAN) base address from 192.168.100.1 to 192.168.1.1, the 301W failed to change the DHCP range or DNS server to match. That's a pretty much universal convention with companies such as Linksys, etc. It took a few minutes of no Internet access to spot this omission.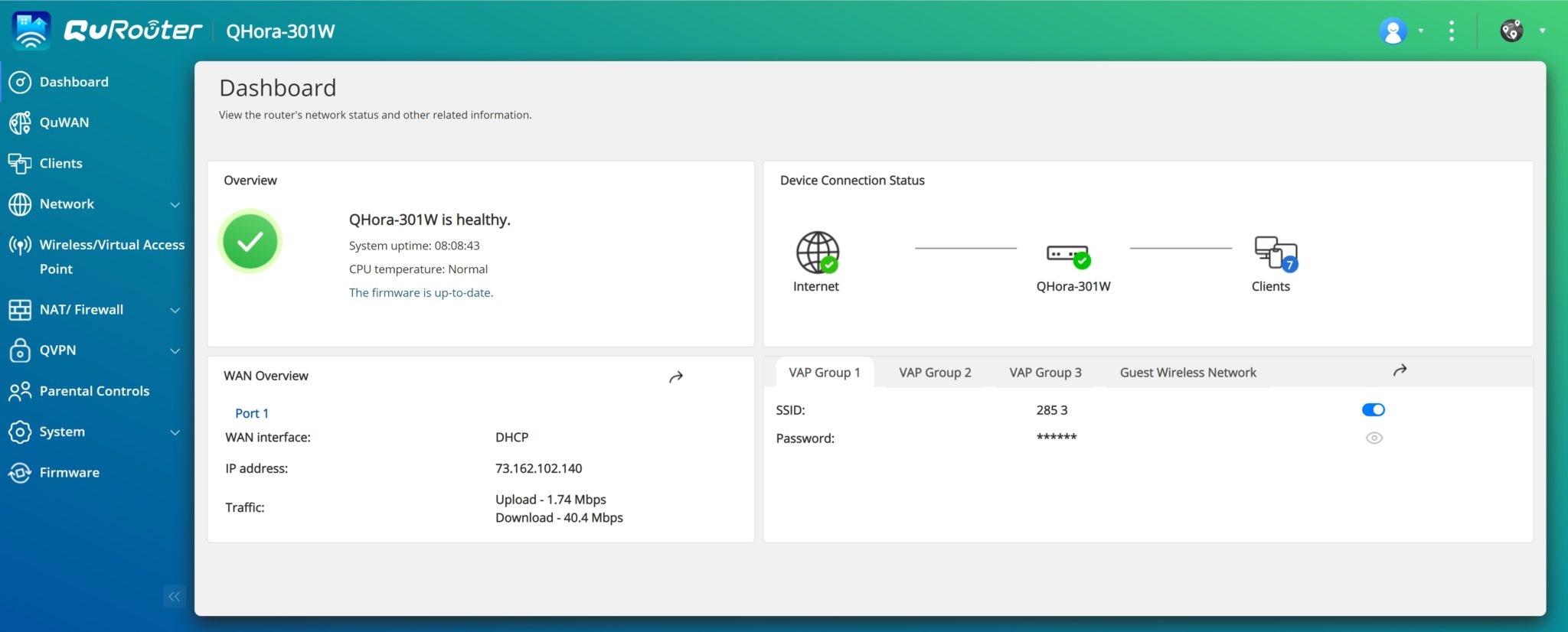 There are also no hand-holding firewall rules such as simply "block this computer from the Internet," though the firewall is quite versatile. You'll simply have to learn about such rules. There are parental controls for blocking Web sites and setting safe search on YouTube, but they're always-on. It would be nice to have scheduling for this and other rules.
Virtual LANs and Access Points might take a bit of study as well as the former are linked to physical ports on the router, the management of which is found in another section. All told, look at it as a learning experience and you'll be a lot happier.
Tip: All LAN settings are under the VLAN section.
Performance
Thankfully, unlike the Zyxel Armor 5 AX6000, the Qhora 310W has two usable multi-gig ports so you can actually verify throughput. Even better, both are 10Gbps so I could verify pure 10Gbps performance.
I also checked throughput on my 2.5Gbps network using QNAP's $99 QSW-1105-5T five-port 2.5Gbe switch–another worthy product the company sent me. It performed flawlessly. I mention it as the public should know that a low-cost, multi-gig switch exists. Just FYI, I have backed off 10Gbps in my home, in favor of 2.5Gbpe simply because of the heat 10Gbe generates–the 301W runs warmer than your standard gigabit routers. In a business environment, I'd live with the heat.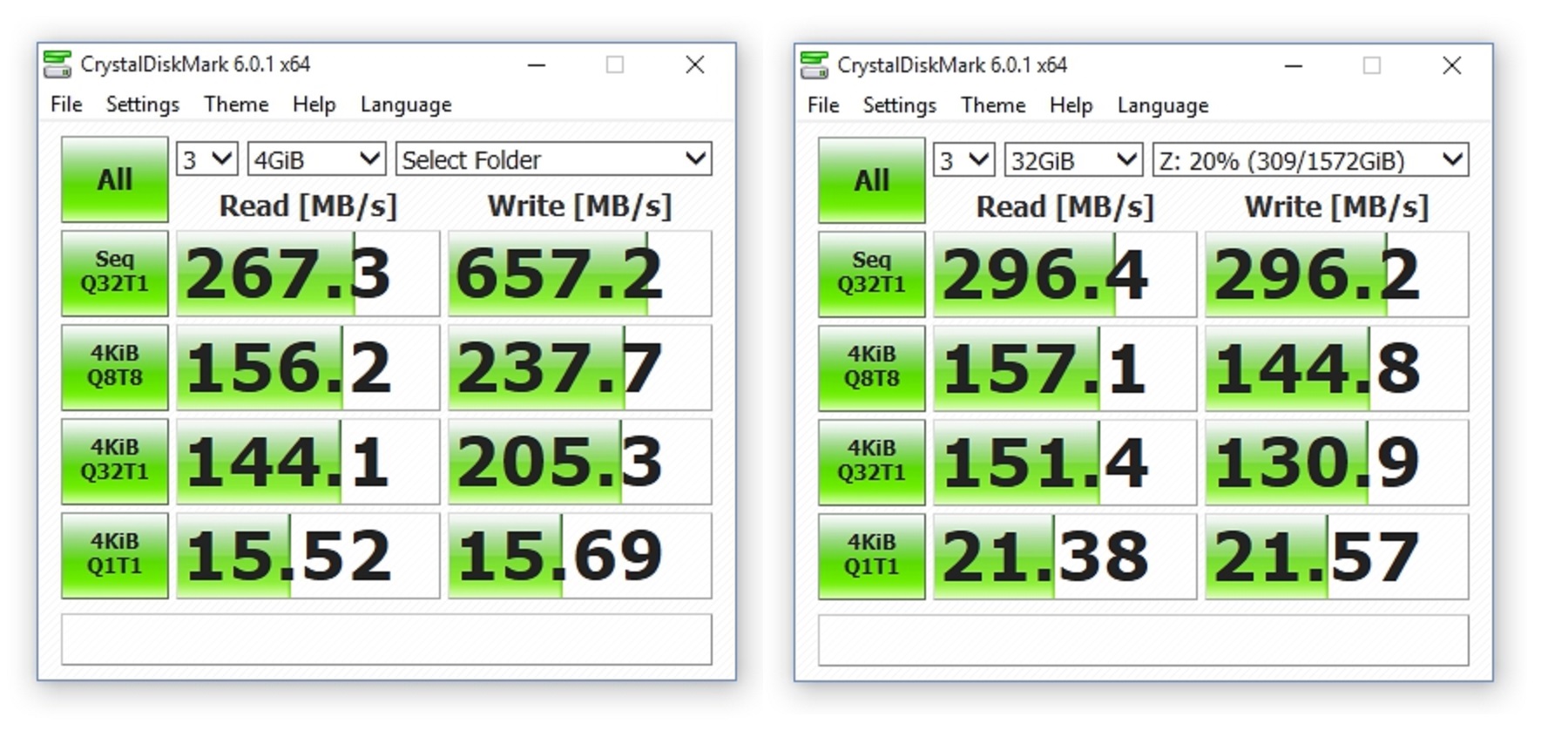 As to the 10Gbps, you can see above that the router is truly operating at 10Gbps. Why the slow read number I can only guess, but it's likely communications between the Windows PC and the iMac I attached to either end. Both machines were using Thunderbolt 3 to 10Gbpe adapters. With a truly fast 10Gbps NAS box, which I did not have on hand, I've seen close to 1GBps reads and writes. Wi-Fi was around 110-120Mbps.
Conclusion
Once acclimated to the QHora 301W's interface foibles, I enjoyed my time with it. It's fast, versatile, reliable over the two weeks I tested it on a busy network (no downtime or reboots), and sports great virtual networking features that will serve small businesses and power users well. I have dedicated NAS for file serving so the odd omission of SMB and DLNA for attached storage doesn't bother me. In fact, I'll be leaving the 301W and the QSW-1105-5 in place until QNAP wants them back. That should tell you something.